Prisma Residences - LOCATION
Prisma residences is located in a very central location. It is near all the major business districts in Metro Manila: Ortigas, Makati Central Business District (Ayala Avenue), and Bonifacio Global City through EDSA and C-5 roads. This is a huge advantage to the homeowners since it is very accessible and cuts down a lot of travel time which means more time to enjoy the condominium's amenities with the family.

This very nice location is also accessible to everything the homeowners need like hospitals, schools and other educational institutions, places of worship, shopping malls, public markets, and other various recreation spots. Major shopping malls like Megamall, Shangri-La, and Capitol Commons are just nearby, for individuals and families who would like to bond through shopping. In cases of emergencies, the site is just adjacent to Rizal Medical Center, and both The Medical City and St Luke's Medical Center in Global City are also nearby.

Additionally, Prisma Residences is not too far away from another DMCI Homes' high-rise development—Lumiere Residences.
The Prisma Residences by DCMI Homes is conveniently located along Pasig Boulevard, Brgy. Bagong Ilog, 1600. This is a prime location especially for upcoming persons working in the Business and IT sectors as the Prisma Residences are close to a number of commercial and business hubs. The residences are close to restaurants, hospitals, schools and all the conveniences you need to live your life to the fullest while not having to spend too much time travelling. 
Some of the business hubs you can find close by include the Capitol Commons which is 2.5km away, the Greenfield District which is 3.3 km away, the Ortigas Center which is also 3.3 km away, the "Market! Market!"  And SM Aura Premier which are both approximately 3.5 Km away. Then there is the SM Megamall for all your shopping needs located just 3.8 km away from the residence. And these are just some of the more major options for doing business and shopping. 
If you are moving with children or are planning on starting a family we understand that the schools nearby are an important factor in your home buying decision. You will be happy to know that you can find a number of schools within close proximity to Prisma Residences. You can find schools within close commute for all ages and stages of life. These include the Academy of International Culinary Arts which is just 1.6 km away. There is also the Treston International College which is located approximately 3 km away. The International School Manila can be found just 3.6 km away from the residences and the Lourdes School of Mandaluyong can be found just 3.4 km away from the Prisma Residences. Rizal High School can be found just 1.3 km away while the Domuschola International School can be found 4.4 km away.  You can also find the St. Paull College Pasig just 2.9 km away while the University Of Asia and the Pacific you can find just 3.3 km away. The University of Makati is just 3.6 km away from the residences. 
Medical Institutions within close vicinity offer up places where you can take care of yourself and your family when the need for healthcare arises. The St. Luke's Medical Center Global City is the closest at around 4.6 km away or a 13 minute commute. There is also the Medical City which is 4 km away or a commute of approximately 18 minutes. Further away from the residences you can find the Victor R. Potenciano Medical Center which is approximately 4.9 km or 20 minutes away. Then at a distance of 5.3 km from the Prisma Residences you will find the Pasig City General Hospital with a commute time of approximately 21 minutes. 
The above mentioned are just a few of the places that you can easily find close by. Other notable locations within close proximity to the Prisma Residences include the Eastern Police District, the Makati Police Station 9, the Police Sub-Station and the Pasig City Hall. The Pasig City Hall is just 13 minutes away or approximately 3 km.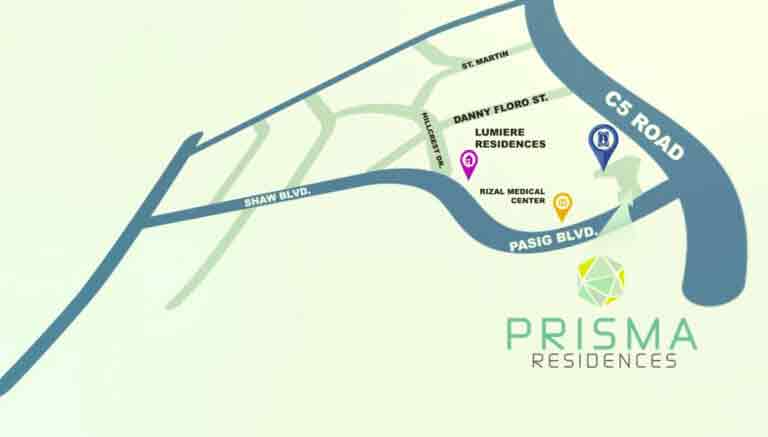 Prisma Residences will rise on a very prime location: Pasig Boulevard corner C5 in Pasig City, adjacent Rizal Medical Center and not far away from DMCI Homes' high-rise development, Lumiere Residences.The ideal location of the site gives residents and their families the comfort of having their needs within easy reach through proximity to various leisure and recreation spots, retail establishments, public markets, hospitals, educational institutions, and places of worship making life easier and more relaxed.

Leveraging on prime location, the project is located in Pasig Boulevard where future homeowners can take pride in having an address accessible to major business districts like Ortigas, Bonifacio Global City and Makati CBD via EDSA and C-5 road. Major shopping malls like Capital Commons, Megamall and Shangri-La are also in close proximity. In cases of emergencies, the site is adjacent to Rizal Medical Center and The Medical City is only a short drive away.

The DMCI Prisma Residences is enjoying every infrastructure Pasig City has to offer. The city's Ortigas Center (shared with Mandaluyong City), located just 2km north of the project, is the source of various modernity in life, which include corporate offices, shopping havens, prestigious schools, prominent medical institutions, headquarters of multinational corporations, cinemas, famous boutiques, various government offices, and other condos in Pasig City.
The Prisma Residences in itself has the Rizal Medical Center, the Mary Immaculate Hospital, PhilPlans Corporate Center, Crowne Plaza, Robinsons Galleria, University of Makati, Pamantasan ng Lungsod ng Pasig, Rizal High School, Kapitolyo High School, Universal Robina Corporation, and the URC Flour Division, among other establishments lying near the immediate vicinity of Prisma Residences. Pasig City makes life more convenient for the residents of the Prisma who are well established that is why they are seeking a city which offers everything near their sanctuary.